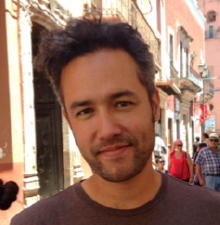 Alonso Llosa was born and raised in Lima, Peru, where he was introduced to photography and short story writing. In 2000 he moved to Los Angeles and transferred to the University of California-Los Angeles (UCLA) Film School, graduating with a B.F.A. in 2003. His UCLA thesis short film won the George Burns award for comedy writing and directing. Upon graduation, Alonso made a living as a freelance editor and used his spare time writing and making short films. In 2011 he applied and got into Columbia University's M.F.A. Film Program. His student short films have recently screened at the Columbia University School of the Arts Showcase, the Guanajuato International Film Festival, the Lima Film Festival and the Cine Las Americas International Film Festival. Alonso is currently preparing his thesis film,
Living Legend
, to be shot in Lima in December.
La restauración — Left with no money and many earthly desires, an aristocratic man‐child sells his family's mansion behind his controlling mother's back. Now he must build a replica of her bedroom in order to create the illusion that she is still living in her old house.