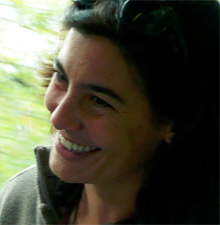 Script Revision in Spanish & English
Originally from Spain, Ana Sanz-Magallón has been working as a script consultant and story editor since 1996, participating in the development of more than 30 released feature films, including Alcarràs by Carla Simón (Golden Bear at the 2022 Berlin Film Festival) and Estiu 1993, also by Carla Simón (award for Best Debut Film at the 2017 Berlin Film Festival, and 2018 Goya award for Best New Director); Las niñas (Schoolgirls) by Pilar Palomero (2021 Goya award for Best Film, Best New Director and Best Original Screenplay); Tres días con la familia by Mar Coll (2010 Goya award for Best New Director); El gran Vázquez (The Great Vázquez) by Óscar Aibar;  El truco del manco by Santiago Zannou (2009 Goya award for Best New Director); and Bajo las estrellas by Félix Viscarret (2008 Goya award for Best Adapted Screenplay).
Ana has been a facilitator in numerous script development workshops in Europe (Torino Film Lab, Mediterranean Film Institute, Creative Europe MEDIA Programme of the European Union, Nipkow Programm, among others) and Latin America (Cine Qua Non Lab, Proimágenes Colombia, the International School of Film and Television (EICTV) in Cuba, among others). She is the author of "Cuéntalo bien" — Common sense applied to stories, a key reference book for Spanish-speaking screenwriters. She holds a degree in Communications from the University of Navarra, Spain, and specialized in Screenwriting at the University of California-Los Angeles (UCLA).