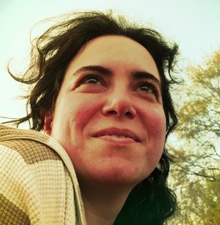 Script Revision in English / Storylines in English
Christina Lazaridi is an Academy Award-Oscar® nominated screenwriter and an expert in dynamic story design and audience response. Projects she has authored, or actively developed, have won awards at the Cannes, Berlin, Oberhausen, Sarajevo, Sundance and SXSW film festivals, as well as the Mexican Ariel Awards, among many others. She currently serves as Head of the Screenwriting Concentration and Assistant Professor of Practice at Columbia University's Graduate Film Division. She formerly served as Associate Director and Full-Time Lecturer at Princeton University's Creative Writing Program, where she built the program's screenwriting track and conducted pioneer research with Princenton's Neuroscience Institute. In addition to her own screenwriting career, Christina has extensively mentored international filmmakers through her private consulting practice as well as through affiliations with major film festivals (Sudance Co//ab, Toronto International Film Festival, etc.), writing programs (Emerson, CUNY, StonyBrook) and multiple production companies.
Christina was born in Greece, where she grew up in the theater, surrounded by a household of politicians, refugees and powerful performers. Her work focuses on high emotional impact narratives of dislocation and survival, and her performance-centered screenplays have consistently attracted major collaborators both domestically and abroad. Her most recent feature film, Nobody's Watching (co-written with director Julia Solomonoff), premiered in the International Competition section of the 2017 Tribeca Film Festival, where it won the top acting award. Nobody's Watching went on to be released internationally to wide critical acclaim, becoming a New York Times critic's pick. It was nominated in six categories for the prestigious 2018 Silver Condor Awards in Argentina, winning the Silver Condor Award for Best Original Screenplay. Her first short film, One Day Crossing (directed by Joan Stein), was a Student Academy Award-Oscar® winner and a nominee in the Live Action Short category. Her first feature film, Coming Up Roses (co-written with director Lisa Albright), starred Broadway icon Bernadette Peters and Rachel Brosnahan. Her historical feature documentary Varian and Putzi: A 20th Century Tale, directed by Academy Award-Oscar® winner Richard Kaplan, was released theatrically at the Museum of Modern Art in New York. In 2017, Christina's first produced screenplay in Greece, Rosa of Smyrna, was a box office sensation surpassing all international sales. Christina is currently writing a feature screenplay for French production company Pan-Européenne, and a new project for New York-based producer Joslyn Barnes and Louverture Films. Her TV sci-fi pilot, Escape Attempt, was shot in Poland in 2019 and is currently in post-production. Christina's scientific paper on narrative, memory and the human brain, co-authored with Uri Hasson's Neuroscience Lab, will be published by MIT's Journal of Cognitive Neuroscience in 2021.
In addition to her position as Academic Director of Cine Qua Non Lab, Christina currently holds the positions of Director of Studies and Senior Mentor at the Mediterranean Film Institute. Christina has written three books on screenwriting methodology —Stories that Change: A Diagnostic Manual for Troubleshooting Your Screenplay, and Case Studies of Screenplays in Motion (Parts I & II)—, commissioned and published by the Mediterranean Film Institute and the European Union's Creative Europe Program.
Christina is a Co-Founder of Cine Qua Non Lab and a member of the Executive Board.