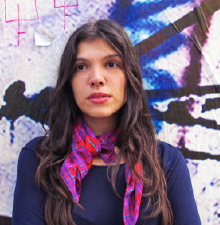 Claudia González-Rubio was born in Mexico City. She studied English Literature at the National Autonomous University of Mexico (UNAM) and holds a B.A. in Spanish and English Literature from the University of Seville, Spain. In 2010 she received a scholarship to study a PhD in Theater Studies at Cornell University, in New York. In 2011 she won the Matilde Landeta Screenwriting Contest for her feature script
Caravana
, and in 2012 she received a development grant by the Mexican Film Institute (IMCINE) for that same script. Claudia recently completed her first short film,
No Swimming in the Pond
, shot in San Francisco, California, and she currently works as a screenwriter for Mexican television shows and series.
Caravana — In the midst of desolation and hopelessness, Celeste and Antonio found their liberation.