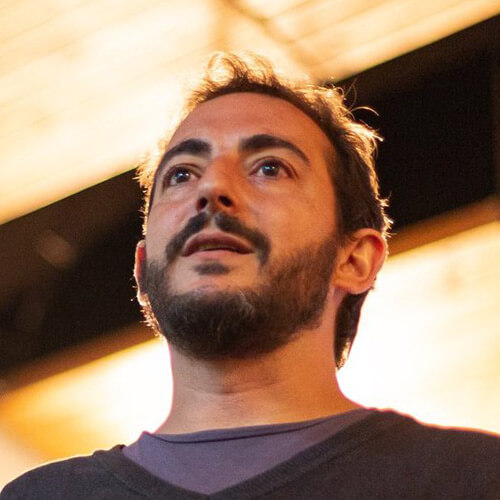 Storylines Lab
Diego Cañizal is a Spanish screenwriter, consultant and teacher based in Bogotá for the past 10 years. He holds a Degree in Information Sciences and a Diploma of Advanced Studies in Rhetoric from the Complutense University of Madrid, as well as a Diploma in Screenwriting from the Madrid Film School (ECAM). He also trained in film production at the International Film and Television School of San Antonio de los Baños in Cuba (EICTV). 
Diego co-wrote El Piedra, directed by Rafa Martínez, a boxing drama released theatrically in Colombia in 2019 and sold to HBO North America, and El sacrificio, a Panamanian horror film directed by Alberto Serra and released in 2022. He also co-wrote the script for Tumbadores, a Panamanian thriller by María Isabel Burnes, currently in post-production, and Animales domésticos, based on the novel by Antonio García Ángel. As a television writer, Diego wrote the miniseries Tierra de Caín (to be released in 2023). In documentary, he co-wrote Nocaut with José F. Varón (Luis Ospina Award for Best Director at the 2022 Cali Film Festival) and is the producer and designer of the narrative of El árbol de Matías, a family documentary released in 2022 which is part of the Legacy of Films for Peace of the Colombian Truth Commission. In animation, he is the creator and screenwriter of Desechable with Carlos Gómez Salamanca.
Diego has worked as a script analyst and consultant, both for private clients and for public entities and events (Ministry of Culture of Colombia, Proimágenes Colombia, Mayor's Office of Medellín, BaqLab in Barranquilla, Fantasolab), and has extensive experience as a teacher (National Film School of Colombia (ENACC), Central University of Bogotá, Congo Films School, workshops of the Ministry of Culture of Colombia, District Institute of the Arts of Bogotá (IDARTES) and Proimágenes Colombia, Laboratorio Esférico in the Dominican Republic, Ibero-American Center for Studies of Photo and Cinema (CIBEF) in Mexico, among others).