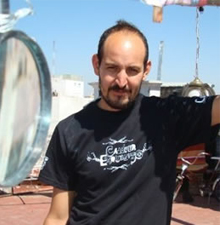 Erick Alvarado was born in Mexico City. He studied Audiovisual Arts at the University of Guadalajara, Mexico, and has been working as an art director and production designer for more than 10 years for short films, experimental and feature films. He is part of Basement Joints, an artistic and independent collective. Erick's stop-motion short film
Mara
participated in many festivals around the world. He is currently developing his first feature film,
Tijuana Star Warrior
, as co-writer and director.
Tijuana Star Warrior — Luke, homeless and living on the streets of Tijuana, believes he's a Jedi warrior. With the help of his friends, he prepares to kill the most important acolyte of the Empire, Sid, an emo-pop-rockstar.