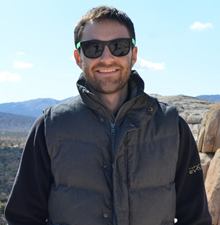 Evan Buxbaum is a filmmaker based in Brooklyn, New York. His short films have garnered screenings at festivals across the country and featured cameos by notable actors such as Peter Boyle, Jerry Stiller, and Tovah Feldshuh.
Anything You Can Do
premiered at Aspen Shortsfest in 2010 and his latest project,
La línea,
premiered at the Nantucket International Film Festival in 2011. Evan is currently working on his first feature film,
Sun Belt Express
, a border-crossing comedy set in the Sonoran desert south of Tucson, Arizona. His previous accolades include the Audience Choice Award at DC Shorts, Finalist at the USA Film Festival, Certificate of Merit at the Williamsburg International Film Festival, the Silver Medal at the Park City Film Music Festival, and inclusion in both the SAG short film screening series and Asbury Shorts' Best of the last 30 years traveling screenings.
Sun Belt Express — An offbeat ethics professor ends up on a run across the Mexican border with his conservative teenage daughter and four illegal immigrants in tow.