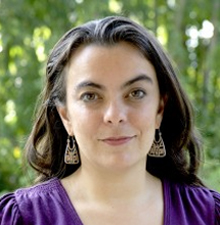 Hilda Hidalgo is a Costa Rican filmmaker who graduated as director at the International Film and Television School in San Antonio de los Baños, Cuba. She has written and directed half a dozen short films and documentaries in Costa Rica and locations such as Italy, France, Bhutan, Benin and the Netherlands.
Del amor y otros demonios
, based on the novel by Gabriel García Márquez, is her first feature film. She is currently developing the documentary
Unos cuantos piquetitos
and her second fiction film,
Violeta at Last.
Hilda works in Costa Rica as a scriptwriter, director and producer.
Violeta al fin (Violeta at Last) — Violeta, a 70-year old divorcée, is fighting to change her outlook on old age and to prevent the bank from auctioning her house; 20-year old Clara is struggling to find common ground between her career as a dancer and the complexities of her relationship with boyfriend Victor, two apparently irreconcilable passions. The two women's destinies will secretly cross paths during the violent season of their lives.