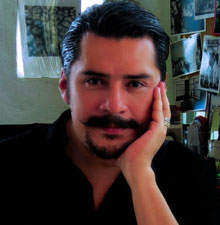 Storylines in Spanish
Originally from Morelia, Michoacan, Mexico, Jesús Pimentel began directing animation short films in 2001 with French filmmaker Dominique Jonard and, later, he participated in various workshops in Mexico City and Guadalajara conducted by the Quay brothers and Russian filmmaker Boris Goldenblank, among others.
In 2005, Jesús was the recipient of the prestigious Fulbright-García Robles grant to study filmmaking at Columbia University in New York City, where he received an M.F.A. in Film with a concentration in Directing and Screenwriting. In 2010, he was nominated for a Student Academy Award-Oscar® for his short film Miramelinda, and in 2011 he won the prestigious Diosa de Plata award for best Mexican short film, granted by the Mexican Film Press Association (PECIME).
Jesús's work has been screened in film festivals around the world, including the Miami International Film Festival, the Los Angeles Latino Film Festival, the Morelia International Film Festival, the Chungmuro International Film Festival in Seoul and the Bolzano Short Film Festival, as well as La Semaine de la Critique of the Cannes Film Festival.
Jesús has participated as project advisor and jury at IFP Independent Film Week in New York, Proimágenes Colombia and the Bogotá Audiovisual Market (BAM), and in international film festivals such as Tribeca, Los Cabos, Guadalajara and MicGénero in Mexico City, among others. He has been executive producer in various film co-productions between the United States, Peru, France, the Netherlands, Spain and Mexico, and has worked as script advisor in the development of several feature films.
Jesús is a Co-Founder and the Executive Director of Cine Qua Non Lab.