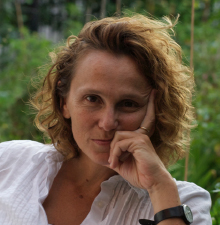 Script Revision Lab in English
Julia Solomonoff is a New York-based Argentine filmmaker. Her first feature film, Hermanas, was developed at the Sundance Writers' Lab and the Berlinale Talent Campus, and opened at the Toronto International Film Festival 2005 to critical acclaim. She is the writer/director of El último verano de la Boyita, which was co-produced by Pedro Almodóvar's El Deseo (Spain) and won over 20 international awards. Julia is currently developing Nobody's Watching, winner of the Heineken Voces Development Grant at the Tribeca Film Festival 2013. She has collaborated with such well-regarded directors as Isabel Coixet, Fabian Bielinsky, Dan Algrant, Luis Puenzo, Carlos Sorin and Martin Rejtman, and was 1st Assistant Director on Walter Salles' Motorcycle Diaries.
Julia's television work as a director includes, among others, Parana, Chronicles of a River (2012), a series of 13 documentaries for the Argentine public TV, and The Suitor (2001), a fiction piece for PBS. She is currently in post-production of Earthship Ushuaia, a documentary on sustainable architecture featuring Elena Roger and Michael Reynolds. Her producing credits include Alejandro Landes' Cocalero, Julia Murat's Found Memories, Ana Piterbarg's Everybody Has a Plan, Lucia Murat's Memories They Told Me, and Celina Murga's The Third Bank of the River.
Julia has been on the jury at numerous festivals and has participated as script adviser at Proimágenes Colombia and the Trinidad and Tobago Film Company. She holds an M.F.A. in Film from Columbia University, where she teaches Film Directing since 2009.