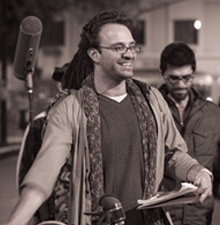 Jurgen Ureña is a Costa Rican filmmaker. His short films have been shown in a variety of film festivals, including Cannes, Trieste, Havana, Clermont-Ferrand, Washington and Cartagena. He has been awarded prizes at the Costa Rican Exhibition of Film and Video for
Variaciones sobre un mismo crimen
(1999),
Costa Rica es pura vida
(2004),
Espejismos
(2007),
Rememorando
(2008),
La piel cansada
(2008),
Ella usaba un vestido amarillo
(2009),
Paso en falso
(2010) and
De sol a sol
(2005). Ureña also received the Áncora Award for Best Audiovisual Production for the biennium 2005-2006, and was selected for the meeting of Central American visual arts "Estrecho dudoso" in 2006.
Abrázame como antes (Hold Me Like Before) — Three days ago Veronica dreamed of a child, a big boy son who would accompany her to soccer matches to eat patí and insult the referee.