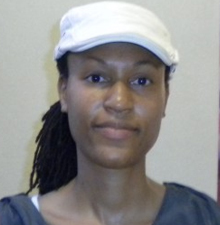 Laurie Thomas is a first generation American writer/director born to Jamaican parents. After graduating with a B.A. in Film and Sociology from the University of California–Berkeley, Laurie worked for two years in social work in the California Department of Children and Family Services, where she gathered stories that would drive her passion to make films. Laurie is currently completing her M.F.A. in Film at Columbia University, where she has written, directed and produced several short films that have played at film festivals internationally. Her thesis film,
Prima Donna
, was a finalist for the 2010 HBO Young Filmmaker's Grant and recipient of the 2011 Columbia Film Festival's Best Short Film 12 Minutes and Under Award. Laurie was most recently chosen as a mentor for the Maisha Foundation collaborating with East African screenwriters.
Goat — Jillian is a 30 year-old recluse living in the poorest village in Jamaica and rumored to be a witch. After a rape and robbery leave her pregnant, she has to fight the village to keep her child.