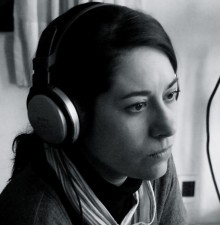 Lucía Carreras is currently at the postproduction stage of her first directorial feature film,
Nos vemos, papá,
featuring Mexican actress Cecilia Suárez and produced by Machete Producciones. With this script she received the support of the Mexican Film Institute (IMCINE) Writing and Script Development Program and the Project Development Program in 2006. She also received support from the Writing and Script Development Program in 2007 for her feature-length script
Suerte de eternidad
, and would later be selected to participate at the Alejandro Galindo Workshop in 2009. During 2002 and 2003, her script
Ofelia
received the fellowship for Creation and Artistic Development by the State of Jalisco. Lucía was nominated under Best Screenplay for the 2011 Ariel award of the Mexican Academy of Film Art and Science, along with Michael Rowe, for the script
Año bisiesto
, winner of the Cannes Caméra d'Or 2010, first time awarded to a Mexican film. She is also co-writer of the feature-length script
La cama,
along with director Rafael Montero, and has herself directed the short films
Las mujeres y el ¿fútbol?, Guadalajara y la noche, La puerta, Emilio
and
Jacinto Pata Sagrada
.
Tamara y la catarina (Tamara and the Ladybug) — Tamara and the Ladybug is the tender story of a mentally handicapped woman who grabs a baby from a newspaper stand without thinking about the consequences.