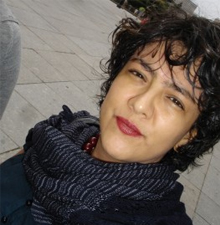 Script Revision Lab in English
Originally from Mexico City, Lucila Moctezuma has been collaborating with New York's film and media community since 1996. Lucila is currently Program Director of Chicken & Egg Pictures, an organization that supports women nonfiction filmmakers from diverse backgrounds whose artful and innovative storytelling catalyzes social change.
Prior to joining Chicken & Egg Pictures, Lucila was Executive Producing Director at the internationally renowned UnionDocs, a center for documentary art based in Williamsburg, Brooklyn, that presents and produces thought-provoking non-fiction work. Formerly, she was Manager of the Production Assistance Program at Women Make Movies, a nonprofit organization that supports women filmmakers in the development and distribution of their films. She was Director of the Media Arts Fellowships for the Rockefeller Foundation, a highly prestigious program that supported media artists in the United States and Latin America, and she is Founder and was Coordinator of the TFI Latin America Media Arts Fund for the Tribeca Film Institute.
Lucila currently sits in the documentary selection committee of the Morelia International Film Festival in Mexico. She was Vice President of the Board of Trustees of The Flaherty and was the United States Delegate for the Huesca International Film Festival in Spain. Her collaboration with film festivals has also included the Margaret Mead Festival in New York, Mostra Invideo in Italy and DocumentaMadrid in Spain, among others. Her work as Associate Producer includes the documentary series The New Americans for Kartemquin Films, and Shocking and Awful for Deep Dish TV, which was part of the 2006 Whitney Biennial. Lucila holds a B.A. in Philosophy from the Universidad Iberoamericana in Mexico City, where she taught until 1996.