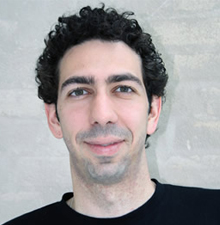 Script Revision Lab in English
Mauro Mueller is a Swiss-Mexican filmmaker with an M.F.A. in Film from Columbia University in New York. His short film Un mundo para Raúl won a Student Academy Award–Oscar® in 2013 and prizes at Aspen Shortsfest and New York Shortsfest, and was screened at the Morelia, Guanajuato and Short Shorts Mexico film festivals, among others. His films have screened at more than 100 festivals and have won twice the CINE Golden Eagle Award, the Big Beach Best directing award, the IFP Audience Award, and the CINE Special Jury Award. Mauro was part of the Masterclass Atelier Paris-Ludwigsburg, a program tailored around co-production and distribution, at La Fémis Film School in Paris. He was also part of the 2012 Berlinale Talent Campus, the 2013 Guadalajara Talent Campus, the 2012 & 2013 Zurich Master Class, and ScriptConnect in New York City and Los Angeles. He was the recipient of the 2013-2014 Marcie Bloom Fellowship, awarded by Sony Pictures Classics. Mauro is currently developing his debut feature film, A Few Days in the Sun, with producers Doro Bachrach (Dirty Dancing) and Leslie Holleran (Chocolat, What's Eating Gilbert Grape?).
Mauro Mueller served as Academic Assistant at the 2014 Script Revision Lab in English.