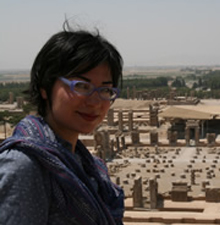 Mehrnoush Aliaghaei is a writer/producer who grew up in Iran and immigrated to the United States after finishing high school. Mehrnoush received her B.A. from the University of California–Berkeley, where she majored in Film Studies and Comparative Literature. She subsequently worked in film distribution and exhibition at the Berkeley Art Museum and Pacific Film Archive. She has been pursuing her M.F.A. in Filmmaking at Columbia University in New York. She has written three feature length scripts and a pilot for a TV series, as well as produced several short films. She is currently developing her first feature film,
Where the Wild Flowers Grow
.
Where the Wild Flowers Grow — Tehran, 1988, the last year of the Iran-Iraq war. Yasi, a 13-year-old girl, is saved from her solitude and abusive mother through her secret friendship with an artist hiding from the Iranian Government.