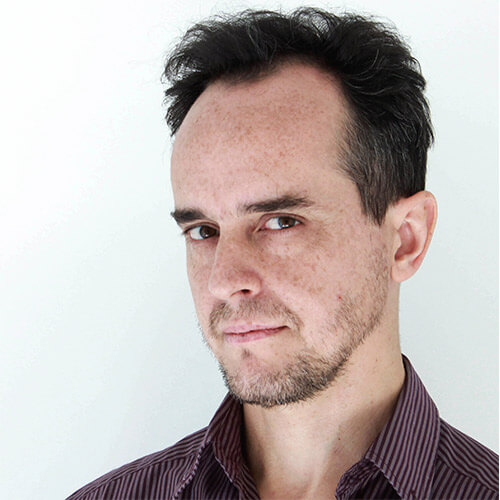 Storylines in Spanish
Pedro Cristiani is a multi-awarded Argentinian director, producer and screenwriter for film and television. He broke into the industry as screenwriter of the sci-fi feature Moebius (1996), winner of the Best Screenplay awards at the Huelva Ibero-American Film Festival in Spain and the Miami Hispanic Film Festival, and the FIPRESCI Award at the Viennale—Vienna Film Festival. He collects an intense body of work that ranges from story editor, showrunner and director for prime-time television, to advertising executive producer and director, and screenwriter/consultant for international feature and television studios (Filmax Entertainment, 20th Century Fox).
Pedro's independent short film Deus Irae (2010) took over the festival circuit winning over 25 international awards, as well as being Official Selection at the Sitges, Montreal, San Sebastián, Athens, São Paulo and Bucheon fantastic film festivals and HBO's New York Latino Film Festival, among many others. Pedro is also the writer and director of Política+Publicidad, a documentary miniseries that exposes the covert relationship between mass media and political power throughout the Argentine dictatorship and democratic Governments.
Pedro is a film professor at New York University: the Gallatin School of Individualized Study since 2003. His classes cover the inception, design and online repercussion of independent film productions. He currently teaches The Search for Cinematic Identity, Television Now: Mapping an Original Show, The Language of Darkness: Writing Horror for the Screen, and Guerrilla Filmmaking at New York University—Gallatin.
His masterclasses and workshops on genre, new forms of production and the evolution of global storytelling have been part of the Brussels International Fantastic Film Festival (BIFFF), the Bucheon International Fantastic Film Festival (BIFAN) in South Korea, Ventana Sur in Argentina and Cannes, and FilmarketHub.