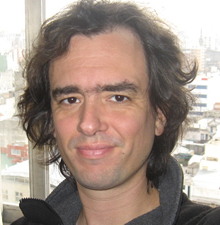 Pedro Ielpi was born in Buenos Aires. He studied film directing at the Universidad del Cine, where he wrote and directed several short films. He has worked on a variety of feature films as assistant director, production manager, screenwriter, casting director and post-production coordinator.
La reivindicación
, his first project as a director, was a finalist at the Havana International Film Festival's Unproduced Script competition, and invited to participate at the Festival's Screenwriters' Workshop in 2011. While developing
La reivindicación
, he has also written a feature film for American producer and director David Raymond, and he is currently writing a miniseries for the Argentine television.
La reivindicación — A child of parents who were forcibly "disappeared", Gregorio Lorenz is determined to kill the military officer responsible for his parents' murder. When his sister Caroline finds out, she tries to stop him at all costs.