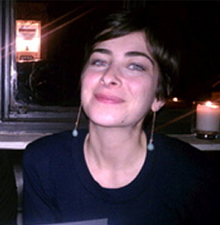 Sara Zandieh is an Iranian-American filmmaker based in Brooklyn, New York. She holds an M.F.A. in Film Directing from Columbia University in New York. Her short film
The Pool Party
won a Jury Award at the Tribeca Film Festival, Best Student Short at Cinequest, and played at film festivals worldwide. Sara was awarded a Fulbright Grant for filmmaking in Istanbul where she wrote and directed the short film Yabanci, distributed by Shorts International. In 2010, she was selected for a directing workshop at La Fémis, the French National Film School, where she wrote, directed and edited the comedic short film Deadline. Her thesis film,
Reza Hassani Goes to the Mall
, won the Focus Features Award for Best Film and the Student Selects Award for Best Directing at the Columbia University Film Festival. Sara is currently developing her first feature film.
A Simple Wedding — Cultures clash and families collide when a Brooklyn couple attempts the perfect All-American Wedding.