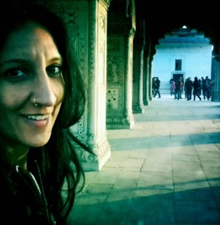 Born in London, Sarita Khurana has been living in New York since the age of six. She holds an Ed.M. from Harvard University and an M.F.A. in Film (with a concentration in Directing) from Columbia University in New York. In 2009, she was named as one of New York Women in Film & Television's "Emerging Female Directors". She has been a film fellow at NALIP-Diverse Women in Film, Art in General, the National Film Development Corporation of India, Women in Film-Los Angeles, and Film Independent.
Sarita is director and producer of the documentary feature A Suitable Girl, which had its world premiere at the 2017 Tribeca Film Festival in New York, where she won the Albert Maysles New Documentary Director Award. Her experimental narrative short film What Remains (2010), a collaboration with artist Chitra Ganesh, has screened at festivals internationally and at the Brooklyn Museum of Art and the Göteborgs Konsthall. Her documentary Bangla East Side (2004) was funded by The New York Times and distributed by Third World Newsreel. Her work, which also includes the short films Rearview Gaddi (2001), Dolley (2005), Leena's Wish (2006), Natasha (2007) and Hawaiian Getaway (2008), has been screened in various galleries and festivals throughout the world. Sarita also directs the docuseries Schools That Work — Edutopia for the George Lucas Educational Foundation.
Sarita has over 15 years of experience in arts management. She has run several film and arts programs, including SAWCC, an artist collective of over 1,000 South Asian women artists based in New York and London, and The Educational Alliance, a New York City-based nonprofit organization, and she has also taught film and video at Columbia University, Lincoln Center's Film Society and at various high schools throughout New York City.
Sarita is a Co-Founder of Cine Qua Non Lab and a member of the Executive Board.