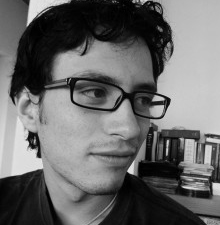 Stefan Guzmán has worked in several feature films, short films and commercials in different capacities. In 2009 he attended Eliseo Subiela's Professional Film School in Argentina, wrote and directed two shorts,
Papel
and
Viejos tiempos
, and participated in 7 other short films. That same year he was awarded a grant for the screenwriting workshop Story, conducted by Robert McKee. In 2010 he returned to his hometown, worked as a Project Coordinator for the production company Congra Entertainment and participated in a documentary, a TV series, two feature films and several short films. He co-directed a 1-minute short for the festivities of Mexico's Bicentennial and won the first prize in the Caminos de la Libertad contest and the third prize in the "Un Minuto por los Derechos Humanos" contest. Stefan is currently at the postproduction stage of his first documentary short film,
Cuanajillo: la historia sin agua
.
Anónimos Suicidas — Omar makes a deal with his newlywed wife Karla to commit suicide, but he survives the poison dose and the police start looking for him for murder. Omar finds a support group called "Anónimos Suicidas": a group of people who failed at committing suicide and who will help him hide from the police and, at the same time, find himself.