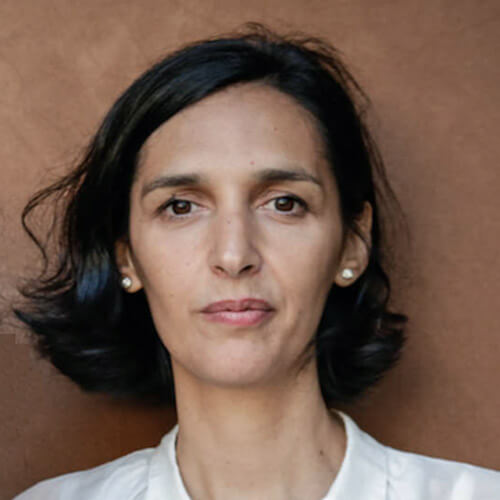 Storylines Lab
Valeria Pivato was born in Buenos Aires. She studied Design and Film and began working as an assistant director, script supervisor and casting director with notable directors such as Juan José Campanella, from his film El mismo amor, la misma lluvia (The Same Love, the Same Rain) in 1999 to El secreto de sus ojos (The Secret in Their Eyes), winner of the Oscar® for Best Foreign Film in 2010. She has also worked with Juan Solanas, Walter Salles and Pablo Trapero, among others. In 2013 Valeria won the Patagonik International Script Contest with her script Antes y después… y después otra vez.
La novia del desierto (The Desert Bride) (2017), her debut fiction feature film as a director, screenwriter and producer, premiered in the "Un certain regard" section of the 2017 Cannes Film Festival. It also participated in the "Horizontes Latinos" section of the San Sebastian Film Festival, among many other international festivals, and received important awards such as the Colón de Oro Award for Best Feature Film at the 2017 Huelva Ibero-American Film Festival, the Coral Award for Best Debut Feature at the 2017 Havana Film Festival, the Silver Condor Award for Best Debut Feature in 2018 and the Argentores Award for Best Fiction Film Screenplay in 2018, among many others. The Desert Bride was also nominated for the Fénix and Platino Awards for Ibero-American Films and for the Sur Awards of the Argentine Film Academy, and was released theatrically in more than twenty countries, including the United States, Mexico, Brazil, Chile, Argentina, France, Spain, Germany, Holland, Turkey and Australia. Valeria is currently developing two fiction feature films: La llegada del hijo, with the Spanish production company Setembro Cine, and La ilusión de un paraíso, independently.
Valeria is a teacher at the ENERC Film School in Argentina (Escuela Nacional de Experimentación y Realización Cinematográfica), at its national and regional headquarters, as well as at the Raymundo Gleyzer Federal Competition for the Development of Film Projects. She is also part of the faculty of the Acting Program for Audiovisual Media launched by the Sagai Foundation in 2022. Internationally, Valeria has taught courses at the Costa Rican Center for Film Production and the Veritas University in Costa Rica, as well as at the University of the Americas in Ecuador, among other institutions.